TSO's have published in
"Auction Rules…"
a general description of the congestion management method applied under different circumstances for maximising the capacity available to the market.
PSE S.A. manages congestions on Polish Power System cross-border connections and offer market based existed transmission capacities to cross-border exchange participants. Since 2004 TSO cooperates with adjacent countries Transmission System Operators: ČEPS, a.s., Vattenfall Europe Transmission GmbH (presently 50Hertz Transmission GmbH) and since 2005 with Slovenijan Elektro-Slovenija, d.o.o. and German E.ON Netz GmbH (presently TenneT TSO GmbH). In their cooperation TSO's agreed coordinated congestion management principals based on Available Transmission Capacity calculation method in particular control areas. Transmission capacities are offered in yearly, monthly and dally auctions by Auction Office. Till the year 2010 Auction Office was located in Prague and run by ČEPS, a.s. Presently Central Allocation Office GmbH took over the role and act as the Auction Office for the 8 TSOs coordinated auction (All CEE Region TSO's: ČEPS, SEPS, PSEO, TENNET, 50HzT, MAVIR, APG, ELES).
Main rules agreed by TSO's in 2004, with small corrections, are in force till present day. TSO's offer transmission capacities in coordinated auctions, in which they offer available export and import transfer capacities for every control area. In order to reflect specification of interconnections technical profile and commercial profile concept has been brought in, for which coordinated auctions are organized. Technical profile is a set of interconnections or facilities linking two on more adjacent control areas, which have a common technical limit and represents limits for commercial transactions on congested interconnector. Commercial profile is an interconnection linking two adjacent control areas. TSO's determine individually available transmission capacities for theirs technical profiles, which are publish next by Auction Office in auction announcement. Market participants attended in cross-border exchange place bids to the Auction Office in order to reserve transmission capacities in particular commercial profile between two adjacent control areas. Below figure represent technical profiles, which transmission capacities are currently offered in coordinated auctions and commercial profiles for which market participants submit their bids; where red lines stands for technical profiles and blue arrows stands for commercial profiles.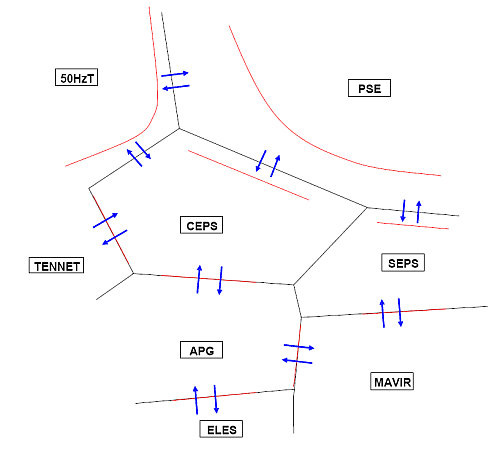 Allocation process is in an "explicit" type of process. Decision whether to accept or to reject transmission capacity reservation bids, is taken during the calculation process in which bids with the highest prices are accepted taking into consideration constraints on the technical profiles. Allocation process participants place bids to reserve transmission capacity on particular commercial profile and compete, not only with other bids placed to reserve transmission capacity on that commercial profile, but also with bids placed on other commercial profile on the same technical profile. Allocation process continues till all technical profiles are blocked.